Halfings of Athas are very different from their traditional depictions.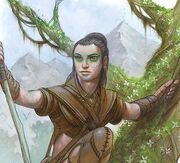 General Description
Edit
The wiry Halflings seldom exceed 3' 6" tall and live in shamanistic tribes in the Forest Ridge . Most Halflings are very xenophobic and vicious cannibals. Rarely will Halflings leave their tribes of their own accord. Those in city-states are usually slaves.
Originally Halflings were the rulers of the Blue Age of Athas. They were accomplished in the art of Life-Shaping.
Ad blocker interference detected!
Wikia is a free-to-use site that makes money from advertising. We have a modified experience for viewers using ad blockers

Wikia is not accessible if you've made further modifications. Remove the custom ad blocker rule(s) and the page will load as expected.